Find best suitable range of brass machine screws at Asian Fasteners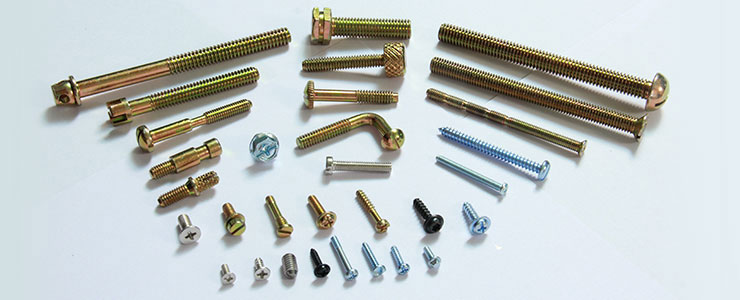 To avail precise and quality castings at competitive prices, contact Asian Fasteners team. The engineers at the facility are producing vast range of brass machine screws and other fastening components by following strict guidelines to ensure product authenticity before releasing it to the market user. The team of professionals have years of experience that hlped the company in establishing a strong reputation in the market.
Our ranges of heads available in Machine Screws are –
Pan Head

Countersunk Head

Raised Head




Cheese Head

Mushroom Head
Now Let's discuss each in detail below:
Pan head screws – these are best suited for screw products where user requires a flat bearing surface or where there is no need of countersunk. Manufacturers find this product more economical to produce than countersunk.
Countersunk head screws – these are vastly applied in screw products where a flush fit is required on the surface. Users employ countersunk head screws in door hinges, manhole cover plates, timber joinery, etc.
Raised head screws – These are often used for exposed applications such as public transport fittings.
Cheese head screws – these are less popular than pan but still you can avail a deeper slot capability from these types of screws. Cheese head screws are usually used as a slot product on machine screws.
Mushroom head screws – these types of screws are also known by the name of truss head screws. These screws have larger diameter and lower profile had as compared to cup, round or pan.
We provide three types of drives in machine screws –
Pozi Drive

Cross Recess H Drive

Slotted Drive
Asian Fasteners emerged as prominent leader among other manufacturers and suppliers in the industry by delivering and exporting assorted range of brass inserts and machine screws. You don't have to worry about on time delivery, we are well-known suppliers for delivering the products in-time.
Machine Screws Are Available In The Following Standards
| | | |
| --- | --- | --- |
| Machine Screw Type | Corresponding DIN Standard | Equivalent ISO Standard |
| Pan Head Slotted Drive | DIN 85 | ISO 1580 |
| Pan Head Pozi Drive | DIN 7985 Z | ISO 7045 |
| Pan Head Cross Recess H Drive | DIN 7985 H | ISO 7045 |
| Countersunk Head Slotted Drive | DIN 963 | ISO 2009 |
| Countersunk Head Pozi Drive | DIN 965 Z | ISO 7046 |
| Countersunk Head Cross Recess H Drive | DIN 965 H | ISO 7046 |
| Raised Countersunk Head Slotted Drive | DIN 964 | ISO 2010 |
| Raised Countersunk Head Pozi Drive | DIN 966 Z | ISO 7047 |
| Raised Countersunk Head Cross Recess H Drive | DIN 966 H | ISO 7047 |
| Cheese Head Slotted Drive | DIN 84 | ISO 1207 |
| Cheese Head Cross Recess H Drive | | ISO 7048 |
| Mushroom Head Slotted Drive | | |
Size
Thread Dia : M2, M2.5, M3, M3.5, M4, M5, M6
Thread Length : M5 To M75
Type of Threads Available :
Raw Material :
CuZn37 / MS63 / CZ108 / CW508L / Equivalent Grade
SAE 1008 / SAE 1010 / SAE 1020 / Equivalent Grade
Surface Finish :
Natural Self Colour
Copper Plated
Nickle Plated
Tin Plated
Zinc Plated
Request A Free Quote
Get In Touch
Inquiry Now